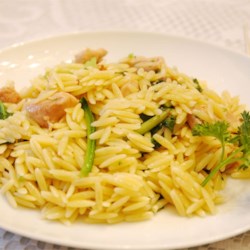 Wow, so I just happened to pick up some Barilla Orzo pasta on a buy 1 get 1 free sale months ago. I had no idea how to prepare it, it had a soup recipe on the back...but now that it is almost summer my kids aren't big on soup! Sooo, what to do, what to do? I was dying to try something new (hey I just rhymed!).

In honor of my dear friend moving away to attend Rhema Bible College, we had her over and I pulled out the orzo pasta at the last minute and decided I would google and find "something". I thawed chicken breasts and had fresh spinach from our trip to the Amish country on Friday. Low and behold I found a recipe that I enjoyed so much I made it two nights in a row!!!

The kids LOVED IT! So I have to share it here!

Recipe:
* 1 cup uncooked orzo pasta (I just used a box)
* 2 tablespoons olive oil
* 2 cloves garlic
* 1/4 teaspoon crushed red pepper
* 2 skinless, boneless chicken breast halves - cut into bite-size pieces
* salt to taste
* 1 tablespoon chopped fresh parsley
* 2 cups fresh spinach leaves
* grated Parmesan cheese for topping

1. Bring a large pot of lightly salted water to a boil. Add orzo pasta, cook for 8 to 10 minutes, until al dente, and drain.

2. Heat the oil in a skillet over medium-high heat, and cook the garlic and red pepper 1 minute, until garlic is golden brown. Stir in chicken, season with salt, and cook 2 to 5 minutes, until lightly browned and juices run clear. Reduce heat to medium, and mix in the parsley and cooked orzo. Place spinach in the skillet. Continue cooking 5 minutes, stirring occasionally, until spinach is wilted. Serve topped with Parmesan cheese.

Here is the link to recipe so you can have it made into a printable card or what have you. RECIPE LINK I got loose with the measurements because I was cooking for 8 people so I made 6-7 chicken breasts and sliced them into bite sized pieces before I cooked them, then I used numerous sprinkles of garlic powder instead of actual garlic--less after stink for people I think. I made the box of orzo which amazingly fed all of us with some having seconds! If you are the type of cook that can do it by smell, then don't measure, smell what you need...that is what I did . I loved how the crushed red pepper were completely undetected in this recipe! You actually enjoy the wilted pieces of spinach in it so use more than less. This recipe was fabulous and I served it with Vienna sliced bread from the bakery--yum so soft and perfect with a little butter! I also served spring mix/standard lettuce and butter lettuce mixed and had numerous dressings offered but my favorite is the Tuscan Italian by Kraft. This was a fabulous meal and I hope you enjoy it and add it to your recipe box soon! :)

I will be posting a few things this week so keep up with me! :)
Have a great day!